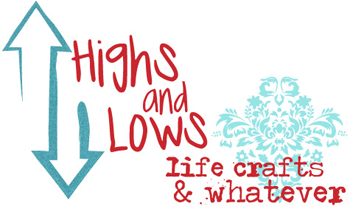 Hey, y'all!
I might have found a new addiction...linking up to Jen's highs & lows.
I can't resist the urge to blab. And complain.
I'm going to start with my lows, because it's been a crap week and I want to end this post on a high note.
LOWS
*You may have read my blog post about my grandma, MaMa, that passed away on June 14. Two weeks to the day later, June 28, my husband's Papa George passed away. It is a devastating loss for the family. Papa George was the patriarch of the family in the truest since of the word. My father-in-law's birthday was today, and it made me even more sad for both losses. It's my f-i-l's first birthday without his dad, and just days after his passing as well. In just 10 days, it'll be my first birthday without my grandma.
*I'll be 29 in 10 days. I think I mentioned that last time too hahaha...I'm just not sure how I feel about that!
*I'm struggling getting back into the "creating" groove since little man has arrived. I hate that too, because I have some really fun ideas tumbling around and I get grumpy when I've not had any creative time.
*I never had typical teenage skin problems. Maybe an occasional pimple but not "acne". Then I hit my early 20's and developed cystic acne. If you're not familiar, it is quite painful and atrocious to deal with. I got it under control about 3.5 years ago...annnnd then I had Baby C and it's back. But on my jawline & neck this time, not my face. It's horrid. I cannot take the oral medicine I had previously since I'm nursing and topical meds aren't helping. Pair that with the poochy baby belly fat I have hanging around and my self esteem is in the crapper.
HIGHS
*I know what I'm about to say is gonna make a lot of mommas mad...but I realized the other day I made it through my first pregnancy (first implies there will be more than one, and I'm not too keen on that right now hahaha) without any stretch marks. I'm pretty pumped about it. Please don't hate me :)
*Little man is 9 weeks as of Wednesday. He got shots the day before and did great. Lots of crying until he was back in his carrier and then he was okay! Thank you, liquid Tylenol.
*We had dinner for my f-i-l's birthday tonight followed by sparklers. Or, according to little dude (below), "marklers". Whatever. This grown up loves some 'marklers'.
*I'll be on vacation in TWO. WEEKS. I'm seriously counting down the days. I do not, however, have any kind of clue how to pack for an infant. This could get dicey.
*My birthday is coming!!! Mark your calendars, people, I love birthday cake. And gifts.